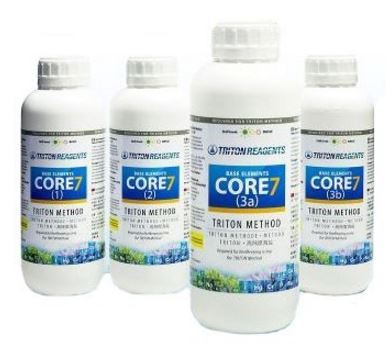 Triton Elementz, already well established in Europe as a quality provider of aquarium water quality testing and hyper-pure aquarium additives, is continuing to push the boundaries and break new ground with its latest (and greatest) product to date.
Known for its Base Elementz line, Triton has come out with a replacement which is called "Core7". Improving over the earlier product which required diluting and mixing with 9 liters of RO water, this new line has been reformulated with all four components now being in a concentrated liquid form.
Triton offers the purest and most contaminant free aquarium additives owing to a production process which analyzes the chemical elements with an ICP-OES machine to ensure that the chemical concentrations are exact.
In addition to its Elementz product, Triton offers elemental additives such as Vanadium, Lithium, Iron, Manganese, Cobalt and Zinc, just to name a few. They also have a DETOX solution for removing excessive heavy metals from your tank.
The new Core7 Base Elements have taken potency to a new level being about seven times more concentrated than its predecessor. Here are a few things that you should know about the newer product:
– If you were dosing 100ml per day of the original Base Elementz, you would only need dose 7ml per day.
– With the new Core7, you may no longer combine 3A and 3B PRIOR TO dosing.
– You should wait at least five minutes between dosing each element (especially 3A and 3B).
EVEN MORE GOOD NEWS! The price of Core7 is about 30% lower than the original Base Elementz line. ADDITIONALLY, Triton has created a bulk refill station for retail stores and aquarium maintenance and service companies. Wholesale customers can purchase the Core7 Elementz in 20L sizes and realize an additional savings of 20%. Retail customers may also bring in their empty retail containers to a store with a refill station and save 20% over the purchase of a new bottle off of the shelf.
STAY TUNED FOR MORE DEVELOPMENTS IN EARLY 2017 when Triton will be releasing a second line of Core7 Reef Supplements specifically designed for hobbyists who do not use a refugium in their reef system. For more information on visit the Triton Labs website.