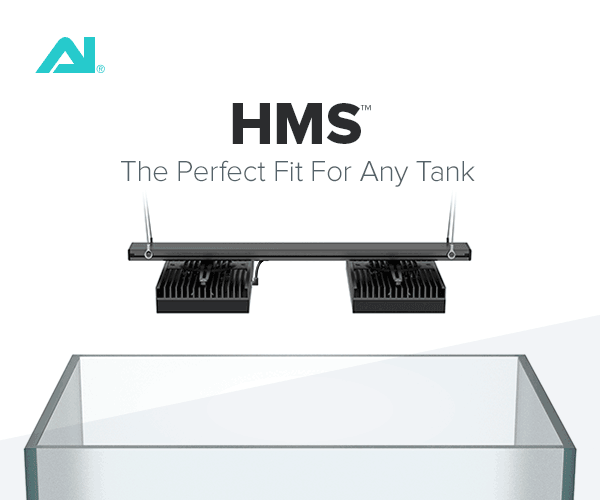 Recently, Aqua Illumination debuted its new impressive HMS mounting system at MACNA in San Diego and we had a chance to take a look at it with Tim Marks.
The lines are clean and the system can be configured in various configurations.  The HMS rail can be hung from above, mounted to the back of the aquarium or side to side as show in the gif loop.
HMS Parts List:
HMS Single light
HMS Multi Light
HMS Hydra TwentySix bracket
HMS Hydra FiftyTwo bracket
HMS 25.5″ Rail
HMS 37.5″ Rail
HMS 49.5″ Rail
HMS 62.5″ Rail
HMS 73.5″ Rail
HMS Hanging Kit
In addition to the HMS series mounting options, Aqua Illumination is introducing an 18″ gooseneck for the Hydra TwentySix HD and Hydra FiftyTwo HD models, expanding the flex arm option previously only available for the AI Prime. The Hydra Flex Arm is the simplest, cleanest and affordable full-size fixture mount to date.
Lastly, the folks at AI have also addressed something to help us tidy up our aquarium cabinet with its new power bar bracket.  Mounting your power supplies out of the water and out of the way has never been easier.  The bracket is fully adjustable and secures the power brick with heavy duty Velcro, helping the aquarist with organization and reducing clutter.

For more on Aqua Illumation products please visit your local fish store or your favorite online retailer.