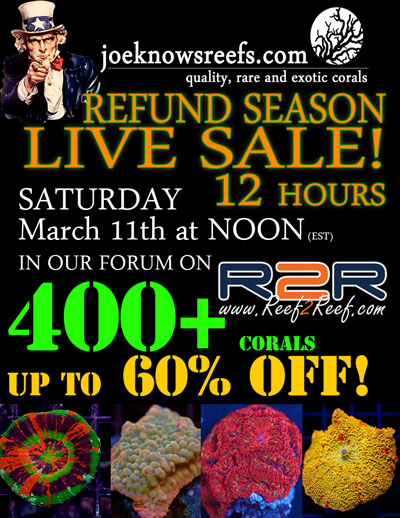 It's that time of year again and our friend and sponsor, Joe Knows Reefs is underway its livestock sale.  The sale ends tonight at midnight so act quickly if you want to take advantage of discounts up to 60% on hundreds of corals.  Please read the details below:
We plan to really put on a nice sale in a few weeks! I will update this thread with more information and rules etc as time goes on.
Want to win a $200 gift card for use DURING the sale? Read below for more info!
Want to win a $200 gift card for use DURING the sale? It's pretty easy. Follow the steps below and you will be automatically entered into a drawing for a $200 gift card that can be used DURING (or after) the sale.
1 – "LIKE" our Facebook page:
https://www.facebook.com/joeknowsreefs/
2 – "SHARE" our Facebook post about the sale:
https://www.facebook.com/joeknowsreefs/posts/1807537872605683
3 – Sign-Up for our newsletter and CONFIRM your subscription in the follow-up email that you receive (you must confirm your subscription to be entered)
http://joeknowsreefs.us3.list-manage.com/subscribe?u=39a99b99cdcc216fa96ed0b3f&id=37e74a7c46
4 – Make a post in THIS thread
5 – When completed with the steps above, send an email to joe@joeknowsreefs.com with your name so that we can verify your entry and send a confirmation reply.
The winner will be drawn and listed in this thread on Friday March 10th at 9pm EST
I am happy to announce Mark from ME Coral has donated a ton of product for various giveaways. A "one-shot" of ME Coral dip will be in EVERY ORDER. A perfect amount for one dipping session of your new corals. We also have several other products such as amino acids, coral food, KH and CA additives and more. Be sure to check them out at www.mecoral.com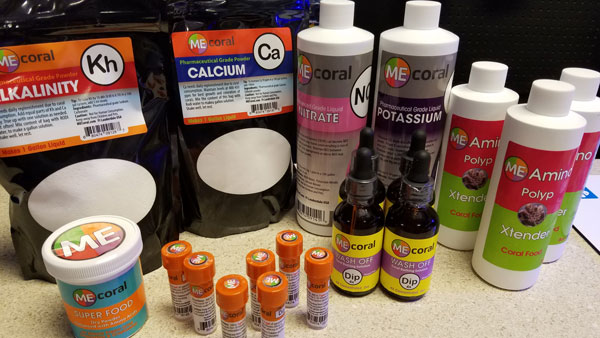 I am also happy to announce that Ken Easter of Coral Frenzy has graciously donated several samples of Coral Frenzy. There will be a sample pouch in EVERY ORDER!!! A big thank you to Ken. Be sure to check them out at www.coralfrenzy.com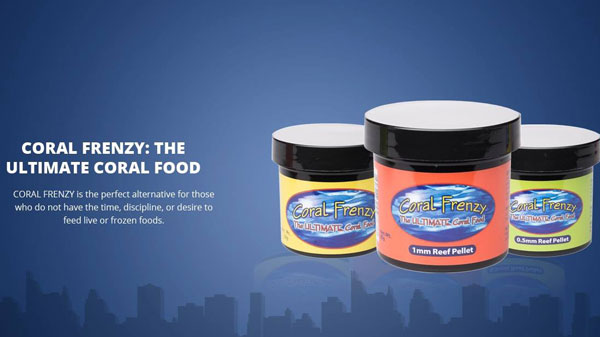 For more on the giveaways visit the Joe Knows Reefs R2R thread.
Joe Knows Reefs Live Sale Rules:
WYSIWYG corals will be posted in this thread beginning at 12pm (EST) on Saturday March 11th.
Each post will contain a picture of the coral, price and a link to our website to purchase the coral.
The first person to successfully "checkout" with the coral will "win" the coral. Just because the coral is in your shopping cart does NOT mean it is yours…the "checkout" process must be completed.
We will accept both PayPal and Credit Cards during the sale. Our website is encrypted with a dedicated SSL Certificate for security measures.
You MUST create an account to purchase any of the corals in this sale. This helps us AND you – to ensure your corals wind up at the proper destination etc.
Corals will be posted at random during the sale. Typically within every 15 minute window a post of 3-5 corals will be made. Those posts could occur at 12:02 or 12:14…or we may even make a post at 12:14 & 12:16 to spice things up…
Private messages WILL NOT be answered during the sale.
Rarely, due to technical glitches, two customers may end up purchasing the same coral. This has only happened a handful of times in the past. If this occurs, the first transaction to post will win the coral. The second customer will either have the option for a replacement or full refund.
All orders are final – no exchanges, add-ons, or refunds – no exceptions. However our "Alive-Arrival" guarantee WILL apply. In the event that a coral arrives DOA the customer MUST provide a clear photo of the DOA coral within 2 hours. After approval, the customer will be provided with a full credit towards a future purchase.
Shipping Info
Shipping will be a flat $35 for this sale.
We will provide only 2 options for shipping dates for this sale; either Monday 3/13 or Tuesday 3/14. On Sunday 3/12 we will create 2 new threads for shipping – you will need to post in the specific thread for your desired shipping day.
LOCAL PICKUP: Will not be available until Wednesday 3/15 or any day thereafter.
Shipping will be provided by FedEx Priority Overnight service with delivery by 10:30am in most areas.
SHIPPING MODULE CAN BE PURCHASED HERE at any point before the actual start of the sale.
There will be NO FREE SHIPPING on this sale – we will already be selling items at a lower rate than normal AND we also incur the cost of shipping containers and ice packs.
We will not combine shipping with other customers. If you and your friend want to split your corals, you must do so under one account. Combining orders on a sale this large makes things very complicated on our end.
Tips & Tricks
Prizes
VARIOUS PRIZES – We will offer other various prizes DURING the sale. For example when things slow down, we may offer a $50 gift card to the first person to successfully answer a saltwater trivia question etc.

$1 & $3 CORALS – We will post at least one $1 and one $3 coral per hour, some hours will contain more. Maximum purchase per customer is two and a regular sale purchase is required
SHIPPING MODULE PRIZE

– Purchase your shipping module BEFORE the sale and be entered to win a $50 Gift Card for use DURING the sale.

CLICK HERE TO PURCHASE SHIPPING MODULE NOW

Shipping module must be purchased before 8pm (EST) on Friday March 10th. Drawing will be at 9pm that day.

GRAND PRIZE – $400 GIFT CARD AND SIGNATURE FRAG PACK! For everyone that stays with us for the ENTIRE 12 hours, you will be entered into the drawing for the grand prize. YOU MUST make a post EVERY HOUR during the 12 hour sale. When the sale is over you must send a PM with the list of your post numbers (upper right corner of your post) for each post. Winner will be drawn Sunday March 12th at 7pm.