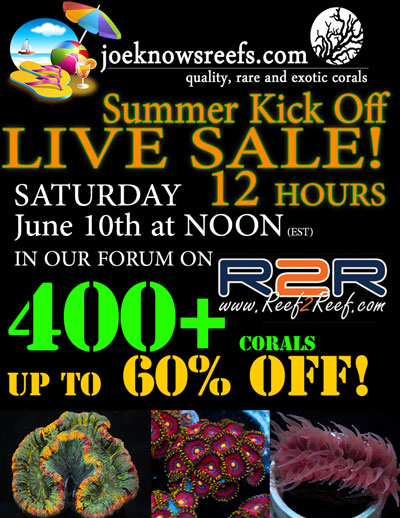 Our friend and sponsor Joey Nichols from Joe Knows Reefs is having their annual summer live sale and it starts this Saturday at Noon EST.  Over 400 corals at prices up to 60% off with raffles on aquarium gear including a BioTek Marine refractometer and BioTek Marine frag mounts that we are donating to his raffle.  Other prizes include MeCoral products, Todd's Pods, Coral Frenzy and a $200.00 Joe Knows Reefs gift card.  Here are some of the details you can find on Reef2Reef.  To learn more read below.
Want a fun way to kick off your summer with a few HOT corals?  We are putting on a killer sale right here in this thread on Saturday!
I will update this thread with more information and rules etc as time goes on.
Want to win a $200 gift card for use DURING the sale? Read below for more info!
Want to win a $200 gift card for use DURING the sale? It's pretty easy. Follow the steps below and you will be automatically entered into a drawing for a $200 gift card that can be used DURING (or after) the sale.
1 – "LIKE" our Facebook page:
https://www.facebook.com/joeknowsreefs/
2 – "SHARE" our Facebook post about the sale:
https://www.facebook.com/joeknowsreefs/posts/1947475855278550
3 – Sign-Up for our newsletter and CONFIRM your subscription in the follow-up email that you receive (you must confirm your subscription to be entered)
http://joeknowsreefs.us3.list-manage.com/subscribe?u=39a99b99cdcc216fa96ed0b3f&id=37e74a7c46
4 – Make a post in THIS thread
5 – When completed with the steps above, send an email to joe@joeknowsreefs.com with your name so that we can verify your entry and send a confirmation reply.
The winner will be drawn and listed in this thread on Friday June 9th at 9pm EST
TEASERS!
More details can be found on the Reef2Reef Forum.  Good luck to all and happy reefing!