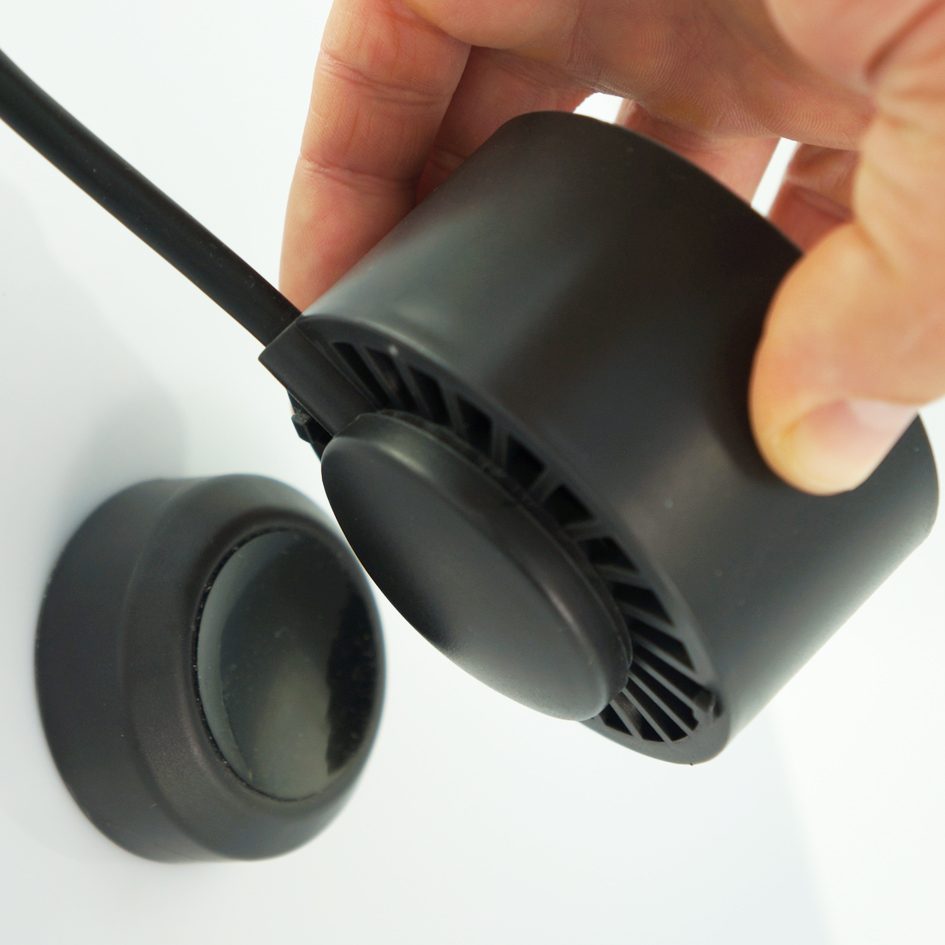 Our first impression with the Waveline WavePuck is that it was worth the wait.  We first reviewed a 3D-printed version of the WavePuck back in 2016.
As expected, Daniel Nguyen and his team at Reef Life Support Systems have improved upon its design.
Here's a look at what makes it stand out.
WavePuck features:
Fully controllable flow pump that moves up to 3,000 GPH and consumes no more than 30 watts of power in the process.
Broad-flow water movement encourages coral growth instead of blasting it away with harmful "hot spots" associated with other wave pumps.
For those who desire more versatility, the WavePuck can link up to most third-party controllers by using an onboard 0-10v port. This makes the pump very and almost universally compatible with most system controllers including the Neptune Systems Apex, GHL Profilux and others.
The WavePuck's multi-function controller allows you to create pulsing or surge effects with its easy-to-set Waveline mode, as well as the expected feed mode. Simply set your desired max power/flow setting and on/off power cycles. You also can set the pump's runtime to facilitate night mode by shutting the pump down until the runtime resumes.
Out-of-the-box observations
Feels solid and well made
Easy to use, with easy-to-follow directions
Super quiet, virtually silent
0-10v Neptune Apex compatibility does not require buying a separate cable
Price is amazing, given all the included features
Slim profile
Strong magnets
Observations after three weeks of use
We couldn't be happier with the WavePuck Wavemaker. Its nearly silent operation, low price point, programmable controller and the 0-10 volt connectivity will be a blessing for many reefers.
Also, while it's not mentioned in the manual, we have ours safely mounted on one of our 8-foot farm tanks. The magnets are designed to work on up to 3/4-inch-thick glass, but we have found they also will work on 1-inch-thick glass, as shown toward the end of this short video.
The only drawback, small as it may be, is that the cage was a little difficult to remove. It took some channel locks and a bit of muscle. At first, we were concerned that we would break the plastic center hub by gripping it too tightly; however, the thickness and durability of the material prevented us from damaging it.
While you likely won't often separate the cage from the motor side of the pump, you will if you ever need to give it a deep cleaning. Otherwise, simply clean it with a diluted bleach/water solution, zap-cal or diluted muriatic acid solution as needed.
Other than this minor annoyance, we think Waveline appears to have served up some serious bang for the buck in the wavemaker category.
We'd love to hear what other WavePuck owners think. Post your comments below or go to our Facebook page to share your thoughts.