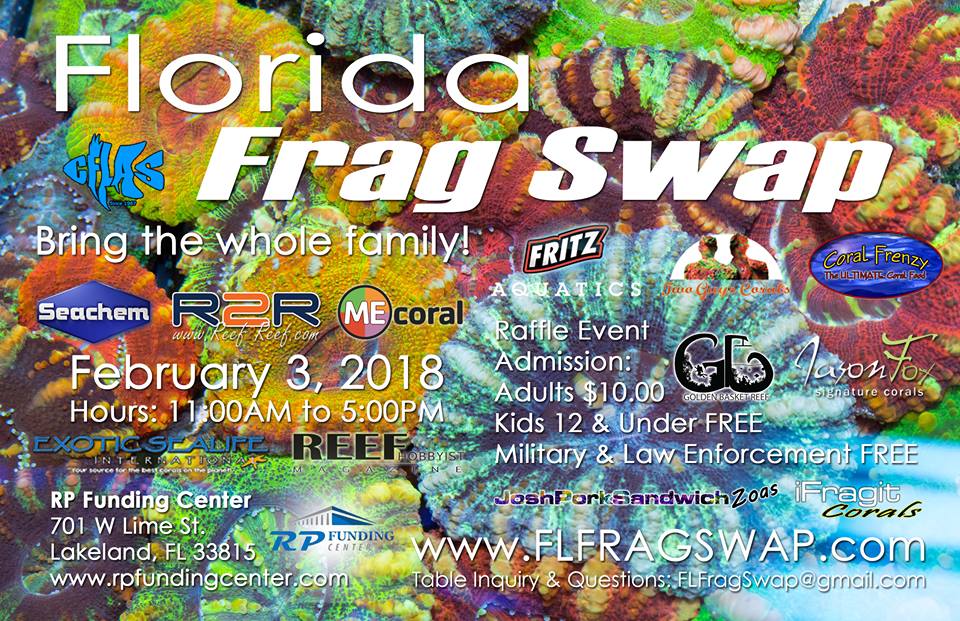 Trade show season is picking up steam. Last weekend we attended the Spartanburg Frag Swap which turned out to be a great show with over 500 paid attendees. Tomorrow we are heading to Florida for the annual Florida Frag Swap. Last year the show was held in Tampa, FL but this year they have moved the show closer to Orlando and it will be held at the RP Funding Center in Lakeland, FL. Orlando has a very large reefing community and the event organizers are hoping to capitalize with Lakeland being about halfway between Orlando and Tampa.
If you are in the area and plan to attend then please stop by and see us in the Aquarium Specialty booth. This is just a partial list but some of the vendors include:
World Wide Corals
Coral RX
Dirks
Fritz Aquatics
Fauna Marin
Aqua FX
Jason Fox Corals
Reefers Direct
Seachem
And many more…
To see a complete list of vendors visit here. The show opens up to the public on Feb 3rd at 11:00AM and the doors close at 5:00PM. Did I mention raffle prizes? It wouldn't be a frag swap without great raffle prizes.
Happy Reefing and we hope to see you at the show!