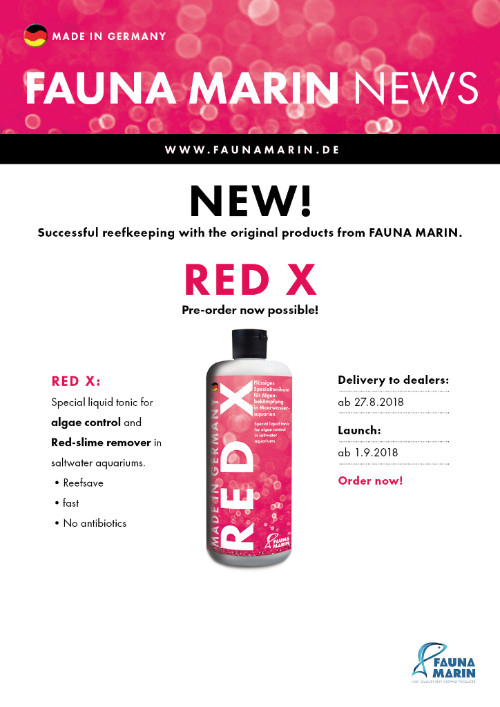 Fauna Marin has just announced a new product to their ever-growing lineup aquarium products and consumables with Red X. The product is called Red X and Fauna Marin refers to it as a "liquid tonic" for algae control in saltwater aquariums and reef tanks.
Red X is fast acting and reef safe. Additionally it doesn't contain antibiotics so it won't kill probiotic bacteria in the aquarium. Red X is available in 250ml and 500ml bottles and it looks like it will begin shipping to US dealers in the near future but for now it will begin shipping to European dealers in early September. The Euro pricing is 24.95 for the 250 ml bottle and the 500 ml bottle is listed at 39.95.
RED X is a special formula that prevents algae growth in the aquarium. Red X safely treats unwanted algae in a biological / organic way and is very gentle to aquarium inhabitants. When used correctly at the intended dosage, RED X is 100% safe to use and harmless to corals, fish, and invertebrates.
RED X is effective against:
Green and red cyanobacteria
Mild dinoflagellate infestation (Ostreopsis sp., Amphidinium sp., Prorocentrum sp., Coolia sp., Symbiodinium and others)
Gold and armor algae
Diatoms
Dosage:
Add 10ml per 100 liters (26 US gal) daily for 6 days, then wait for an additional 5 days for full effects to occur.
During treatment period, DO NOT do water changes. Do not use any carbon, PO4 removers, Adsorbers, Ozone or UV.
After 11 days, you may resume normal aquarium care.
After Red X treatment – Fauna Marin REBIOTIC to repair and maintain a healthy biological balance in the aquarium. By adding Rebiotic, you can effectively prevent unwanted coverings from coming back.
Safety note:
RED X is intended for use in Saltwater aquariums only.
Keep away from children, not for human consumption.
For more information about Fauna Marin products please visit the Fauna Marin website.