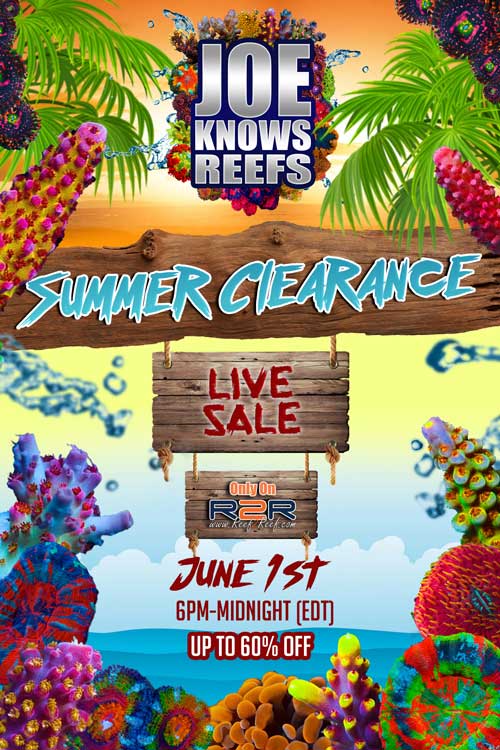 Our friends over at Joe Knows Reef are having their summer live sale this coming Saturday, June 1st from 6pm – 12am. The live sale will take place on our favorite forum, Reef2Reef. Keep reading below to learn more or you can visit the Reef2Reef live sale thread by clicking here.
It's time to clear out some frags!!!  Join us THIS Saturday June 1st from 6pm-12am EDT on Reef2Reef.com!
If you have never participated in a live sale, it is a lot of fun.  Essentially it is an online sale that takes place immediately.  Every few minutes the vendor will post new corals to the website with a link to buy.  Joe Knows Reefs will have corals as low as $1 and at discounts up to 60% off normal prices. Also, they will be giving away a $200 gift card for use DURING the sale!!!
Here's how to enter:
1 – "LIKE" their Facebook page: 
https://www.facebook.com/joeknowsreefs/
2 – "SHARE" the Facebook post about the sale:
https://www.facebook.com/joeknowsreefs/photos/a.166789020013918/3244611278898328/?type=3&theater
3 – Sign-Up for our newsletter and CONFIRM your subscription in the follow-up email that you receive (you must confirm your subscription to be entered)
http://eepurl.com/bEsNYL
4 – Make a post in this thread:  https://www.reef2reef.com/threads/joes-summer-clearance-live-sale-june-1st-official-thread.598618/#post-6049161
5 – When completed with the steps above, send an email to joe@joeknowsreefs.com with your name so that we can verify your entry.
The winner will be drawn and listed in the sale thread on Friday May 31st at 9pm EDT
DEADLINE FOR ENTRY IS FRIDAY MAY 31st at 8pm EDT
On a side note, Joe Knows Reefs will also be at the Carolina Reef Experience.  We are delighted to be hosting the event on November 2nd and we will have some of the best live stock vendors and manufacturers from around the county! Oh, and we will have some awesome raffle prizes! Click here to learn more about the Carolina Reef Experience or visit our Facebook page to stay informed.