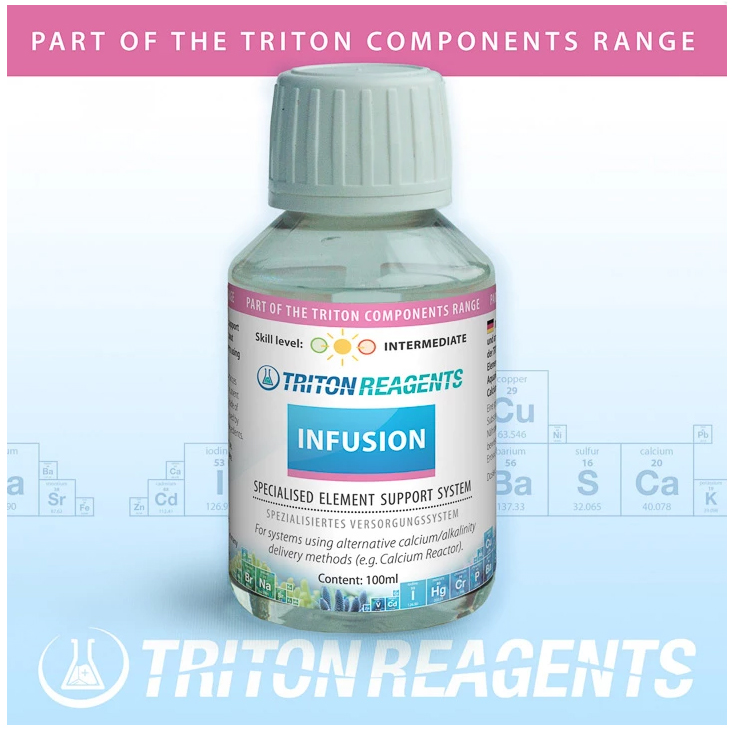 Many of our readers are familiar with the Triton Labs method of reefing. For those that are not, here is a quick synopsis.  The Triton approach to reefing sets the goal to precisely testing and supplementing the aquarium with different additives to mimic natural sea water without the need for periodic water changes.
So then why is Infusion important? After all, Triton Labs developed a system that addresses every beneficial additive and trace element while eliminating the need for water changes. The answer is simple; calcium reactors.  Dosing three part (Ca, Alk and Mg) additives are the most popular way of delivering these nutrients to corals but at some point, dosing 3 part can get expensive, especially on larger aquariums.
So what is infusion?
INFUSION is a blend of trace elements and other beneficial substances that allows you to use the triton method without having to use CORE7 Base Elements. Infusion is ideal for large aquariums with a calcium reactor or if another calcium supply system is preferred. Infusion is proprietary blend of beneficial substances that enhance the performance of algae-based nutrient control systems. The product is new but it is based on a decade of research and development.
Triton Press Release:
After 10 years of development, the best way to run a reef system DIY.
Years ago, when we developed Core7, we started down a modular path by creating two versions – Core7 Base Elements and Core7 Reef Supplements.
Core7 Base Elements for the 100% TRITON Method, containing a mix of elements and other beneficial substances matching the TRITON framework, bringing users the success that TRITON is known for.
Core7 Reef Supplements made for customers not using the TRITON Method but still wanting the benefits of running the most concentrated and quality controlled product on the market without dilution agents or other sources of organic carbon.
Infusion is now taking this modular approach to the next level. The proven TRITON mix of elements and other beneficial substances, that were originally only available in the base elements, is now accessible for the users that don't want to use Core7 for macro element supplementation (Calcium, Magnesium, Potassium, Sulfur, Bromide, etc….)
Infusion contains all traces and other beneficial substances, and their chelators, to keep them biologically available. For example Iodine, Manganese, Vanadium, zinc, etc… while macro elements like Calcium, Magnesium, Potassium, Sulfur, Bromide, etc… would need to be supplied through the aquarist's preferred macro element supplementation.
Infusion makes it possible for the aquarist to run the TRITON Method and enjoy all of its benefits, success and knowledge. It allows users to avoid water changes and access the world's largest knowledge base, while still using a calcium reactor (CaRX calcium media) or Balling salts / two part / three part.
Triton Infusion is available in the US from authorized Triton Labs dealers and distributors. Retail pricing is $29.00 for a 100ml bottle. Click here to calculate dosing requirements for your aquarium.