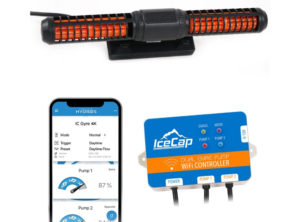 Less than a week ago we wrote an introductory article about the soon to be released Red Sea ReefWave Gyre pump so it may be no surprise to you that IceCap would be making an announcement about their re-release of their popular gyre wave makers.
Well it appears that the IceCap Gyre is back and better than ever! The new IceCap gyre appears to be a complete redesign as you can see from the photos and video below. IceCap promises more power from 2 new models simply called the 2K and 4K. Not only more powerful than their predecessors, they are now WiFi controllable, allowing you to adjust flow effortlessly and wirelessly from your mobile device within your local network.
The previous generation of IceCap Gyre Pumps, the 1K and 3K, had external controllers with buttons and a rotating dial for fine-tune flow. The 2K and 4K does away with the need for that style interface. All of the control is now done wirelessly on a free mobile app from your Android or iOS (Apple) device. The new controller utilizes CoralVue's powerful HYDROS platform to access life-like flow patterns, scheduling, and much more.
2K TECHNICAL SPECS
Rating: For aquariums 20-90+ Gallons
Minimum Flow: 739 Gallons Per Hour
Maximum Flow: 2,000 Gallons Per Hour
Size: 8.78″ L x 2.83″ W x 1.5″ H
Glass Thickness: Up to ½" Thick
4K TECHNICAL SPECS
Rating: 25-150+ gallons
Max Flow: 4,000gph
Watts: 13~45 watts
Size (in): 12L x 3.15W x 1.7H
Weight: 711g/25.1oz
Cable Length: 6ft
Tank Thickness: Up to ⅝" thick
Glass or Acrylic: Safe for Both
FEATURES & BENEFITS
Can be Mounted Vertically or Horizontally
Includes 2 Sets of Propellers: Orange and Black
HYDROS WaveEngine Direct Drive Compatible
The controller can Supply Power to 2 Pumps
Control with a free app for Android/iOS (Apple)
I think our readers will also be very pleased with the price of these new pumps. The 2K is going to have a MAP of price of $109.99 and the 4K will sell for a modest price of $209.99. At these prices they are sure to win over a lot of aquarists including this one! We are now taking pre-orders for these at Aquarium Specialty and orders will begin shipping by the 1st or 2nd week of December.