Red Sea is all pumped-up (pun intended) about the launch of their new ReefWave® smart pumps which are slated for release by the end of January 2020.
By now many people in the hobby and industry are aware that several manufacturers are striving to offer a soup to nuts approach to reef keeping and that is true with the Red Sea line. In November of last year, Red Sea teased 3 new skimmer models and in July of this year they announced their 1st ever LED fixture (90 watts) and more recently introduced a new 50 watt version for shallow reef tanks; both utilizing the new ReefBeat App.
Last week our Red Sea rep dropped by to talk to us about some changes they are making to some of their aquariums and we also discussed their new ReefWave wave maker pump. The new pump design is a collaboration between Maxspect and Red Sea and it offers some new features to the popular gyre style wave pumps.
Red Sea's ReefWave Wi-Fi pumps are the latest addition to Red Sea's Ecosystem of Smart devices. Based on the Gyre patented, cross-flow technology, they provide optimal REEF-SPEC® water flow for corals in a wide range of reef-scapes, regardless of the position of the corals in the aquarium. With built-in Wi-Fi, the aquarists  can control one or multiple pumps directly from a smartphone Red Sea's ReefBeat® app. The ReefBeat app is downloadable for free to any Android or Apple smartphone.
Our Red Sea representative informed us that the pump has been in testing for some time now and the pump is both smooth running and energy efficient with sine-wave motor drive technology. The pump mount itself further dampens noise and all models include dual bearings, making it a virtually silent wave maker pump, even while it's in pulse mode.
Aquarists can control each ReefWave pump locally through the pumps dedicated controller or remotely via Wi-Fi though the for-mentioned ReefBeat app. When connected to ReefBeat, the ReefWave provides a full menu of features such as fully customizable waves that can be combined into a unique 24-hour wave schedule, Feed mode, Maintenance mode and an Emergency Shut Off that are coordinated with all of Red Sea's ReefBeat smart devices. In the event of a power outage or internet interruption, the ReefBeat will notify you. The app seamlessly integrates ReefWave with all of Red Sea's current and upcoming smart devices.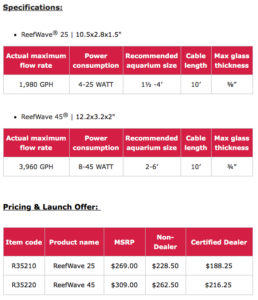 Visit the Red Sea site to learn more.