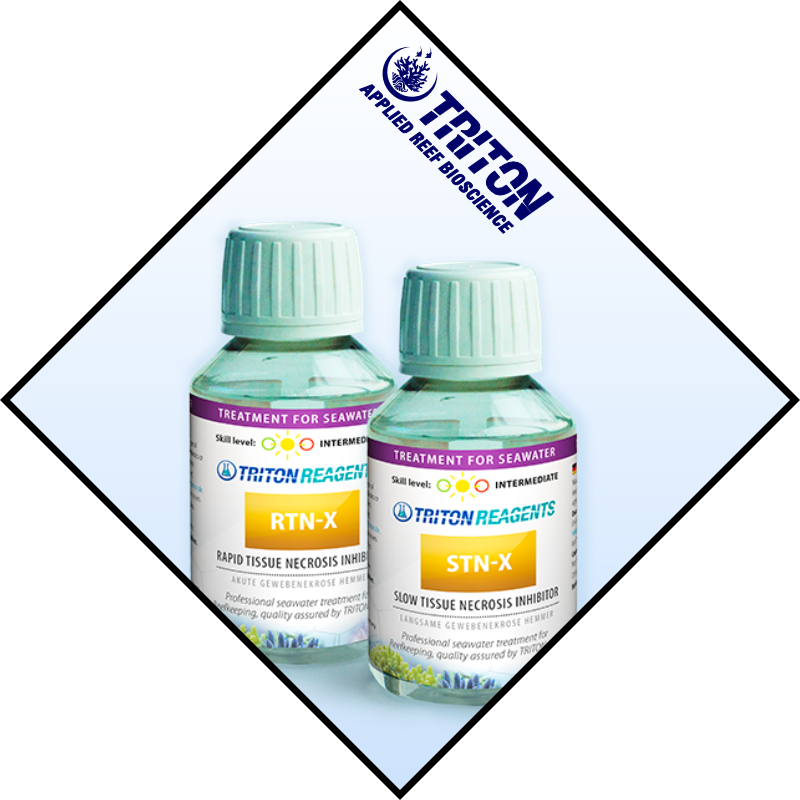 Triton Labs has just a new reef safe in tank treatment that can reduce the chances of RTN (Rapid Tissue Necrosis) and STN (Slow Tissue Necrosis) in corals.
These 2 newly released products are aptly called RTN-X and STN-X and they are available from Triton Labs distributors, Unique Corals in California and Aqua Specialty Wholesale in South Carolina. They will soon be available from retail stores across the country in the coming days and weeks.

What is STN and RTN?
Slow Tissue Necrosis (STN) and Rapid Tissue Necrosis (RTN) are two common problems that have become increasingly prevalent in the modern reef aquarium. With the growing popularity of small polyp stony coral (SPS) dominated systems this problem has become disheartening and sometimes expensive for many aquarists.  RTN & STN are often misunderstood and overgeneralized terms used for when a coral suddenly dies or dies over the course of several days or even weeks. Many aquarists simply call it STN or RTN based of the speed of which the tissue recedes from the coral skeleton but often don't know the underlying cause. STN and RTN are descriptive monikers for parasitic infections or primary and secondary bacterial infections and RTN-X and SRT-X address primary and secondary bacterial infections however, the product was not developed for treating parasitic infections from pest like Red Bugs, AFEW (Acropora Eating Flatworms, Parasitic Euphelia eating flatworms, parasitic nudibranchs and other host specific parasitic species.
RTN-X and STN-X were derived through TRITON's unique scientific work in N-DOC lab testing establishing the TRITON N:C:P Ratio.  They can be used to aid corals against bacterial types of slow and rapid tissue necrosis.
RTN-X and STN-X works by creating an environment within the aquarium that shocks the bacteria attacking the infected coral, while at the same time, providing specific elements that help to fortify the coral that is under attack. The "shocking affect" of these products is achieved by an intensive "in tank" bath which means that the infected coral does not need to be removed from the aquarium.  A solution is prepared using the aquarium water in conjunction with either RTN-X or STN-X and after 20 minutes it is ready for application.  If nutrient amounts in the aquarium are known, ideally through N-DOC testing, a very effective ratio adjustment can be administered prior to the intensive bath. Triton labs has an online calculator for optimal treatment dosage.
It should be noted that these products cannot prevent further deterioration of affected corals if the underlying stressors are not identified and addressed but the products will acutely treat the bacteria causing tissue necrosis.
As mentioned above, ideally using the TRITON N-DOC lab tests guidelines more accurately dials in the dose rate for RTN-X or STN-X. But if waiting for N-DOC results is not ideal there is also a generic dose rate if exact water parameters are not available at the time of need.
RTN-X and STN-X do not contain any from of antibiotic or aggressive heavy metals and are safe to use with any reef system.
Both products were designed in Australia and are produced in Germany.