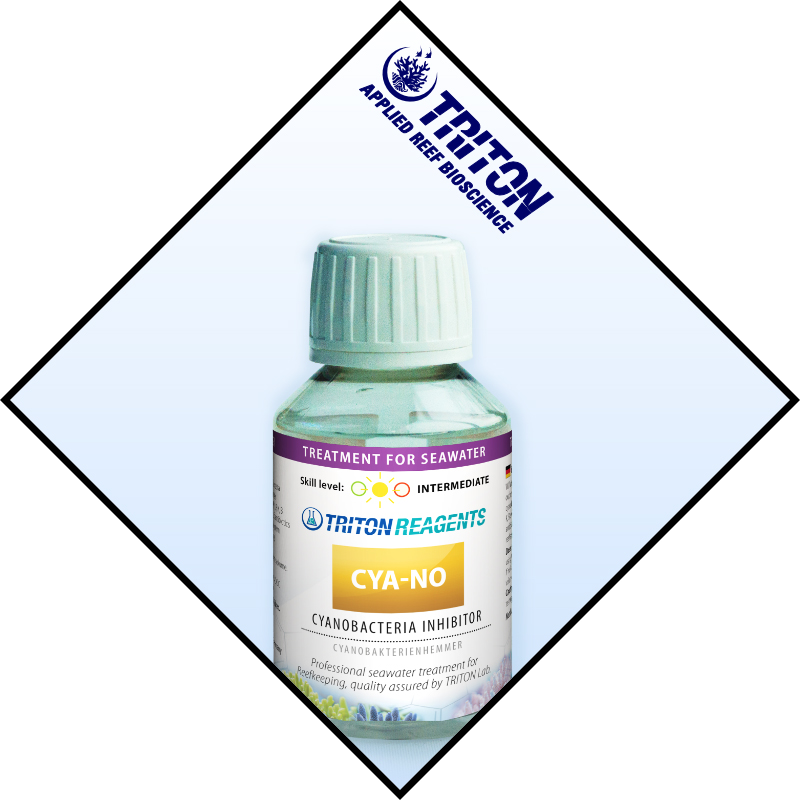 Earlier this week we announced a new in-tank bacterial treatment that treats STN (Slow Tissue Necrosis) and RTN (Rapid Tissue Necrosis) in corals and now Triton Labs is back in the spotlight with a product called CYA-NO.

About CYA-NO
Anyone who has been in the aquarium hobby for any length of time has probably faced an outbreak of cyanobacteria at one time or another, it can be a very unsightly and a difficult problem to overcome. Unlike most cyanobacteria treatments, CYA-NO is a cyanobacteria inhibitor which aids in preventing the growth of the most common forms of cyanobacteria.
CYA-NO works by creating an environment that promotes the development of beneficial organisms that compete with the cyanobacteria and help to slowly shift conditions away from those in which the cyanobacteria thrive.  CYA-NO influences the environment safely and naturally by affecting N, I, P, K and B levels and the N:C:P ratio.
Most importantly it inhibits the growth of cyanobacteria without containing any form of antibiotic or aggressive heavy metals and is safe to use with any reef system.
CYA-NO is ideally used in conjunction with TRITON N-DOC lab tests that will accurately dial in the dose rate; However, there is also a generic dose rate if exact water parameters are not available. Triton Labs now offers an online calculator that helps finely tune how often and how much CYA-NO should be used in your aquarium.
It is important to note: If you witness any increase in the growth of cyanobacteria after using CYA-NO for more than 4 days then cease dosing immediately as the specific cyanobacteria causing the outbreak is not a variety that can be treated with this product.