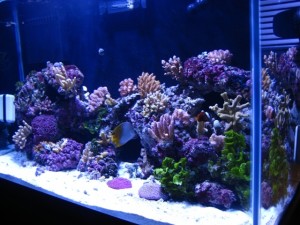 You would think that with the Pacific Ocean and pristine reef life in your backyard you wouldn't need a reef aquarium. According to our friend Chuck, who recently relocated to the Marshall Islands on a job assignment, most of the people living on Kwajalein actually do have fish tanks. Of course, being an aquarium addict, Chuck fits right in. He hauled is 57-gallon Oceanic Illuminata rimless aquarium all the way out into the middle of the ocean and has stocked it with lots of  local wildlife.
Continue reading below for several more pictures and the reef-friendly method Chuck used to acquire all of his corals.
According to Chuck, the corals don't even need to be broken off of the reefs. If you look around long enough, you will eventually see whatever you want just sitting in the sand or washing up on the beach. This is actually pretty typical of most coral reefs, since wave actions and storms often break or dislodge corals. The fish are a bit harder to catch though. They move a bit more quickly than the stationary corals and can swim into tight spaces where a net can't reach.
Another good thing to having a tank full of local life, besides the fact that it's all free, is water changes just require a few trips back and forth to the coast. Depending on how this is achieved, it may be pretty bad on your back, but you don't have to buy salt and spend a bunch of time getting the water "just right".