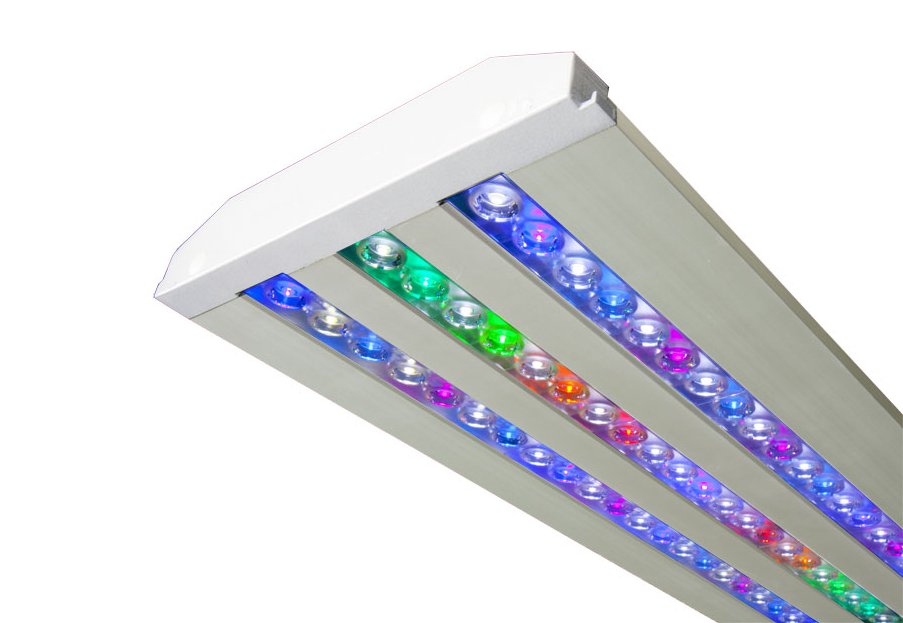 One of the biggest trends in LED lighting for reef aquarium purposes has been the use of several different channels of color in order to replicate the multi-point spectral properties of sunlight and to also give users some options when fine tuning the look of their aquarium. Many companies have experimented with these setups, with one of the latest being Acan Lighting, who has released a new fixture that has more colors than a bag of Skittles. Their newest light that has us tasting the rainbow, called the Prism, features 63 LEDs spread across 8 colors.  These colors include the standard white, blue, and royal blue, but also making an appearance are red, amber, green, cyan, and magenta.
Measuring just 18″ long, the 600 Series Prism separates these diodes into three rows, with the layout being specifically designed for a good color spread over the aquarium. Capping off the unique design of the fixture, a single multi-chip moonlight is also built in. Falling in line with the rest of the Acan Lighting lineup, the 600PA-18S has a built-in controller that allows users to fully adjust light intesity as well as create a multi-stage dawn to dusk cycle. Also included with the fixture are adjustable tank mounts and suspension mounts.

Product Specs:
Case: Silver aluminum housing (black also available)
Size: L18″ x W8″ x H1.3″
Power: 70W
Voltage: 110V AC

LEDs:
• 32 white
• 8 blue
• 9 royal blue
• 2 red
• 2 amber
• 2 green
• 2 cyan
• 6 magenta
The retail price on the Acan Lighting 600PA-18S is $740 and a black version of the fixture is also available if the silver housing doesn't suit your design needs.