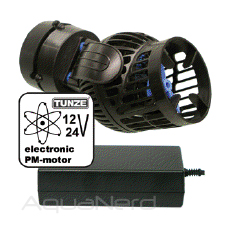 Tunze is really gearing up for a big year full of product releases, with almost every one of their product lines getting some tweaking and updating. The latest of these updates comes in the form of a brand new Stream pump, the Tunze 6255. This new pump, and the 6155 released last year, are the culmination of Tunze's efforts to not only replace the previous generation of 6205 and 6305 Stream pumps, but to also offer up different flow patterns because aquarium hobbyists seem to now overwhelmingly favor wider, more turbulent flow. As far as the numbers go, the new 6255 is capable of water flow rates of 1,300 to 4,800 gallons per hour (5,000 to 18,000lph) with a max power consumption of 58watts. Like the other Stream 2 pumps it is replacing, the 6255 will be fully controllable with the help of a Tunze controller or compatible aquarium controller, or manually adjustable with a small dial that adjusts the voltage of the pump's power supply.
As can be seen in the image above, the outlet nozzle is extremely wide and lacks the stabilizing cross bars on its opening, which is the same style of opening seen on the 6095 Nanostream. The opening is so wide, in fact, that it is over a half inch wider than what's found on the 6305. Also helping move the water through the pump is an increased spacing between of the intake grill, which extends all the way to the outlet.
The new Tunze 6255 will be on full display at Interzoo in the coming days, where I'm sure a little bit more information, mainly price, will be revealed.