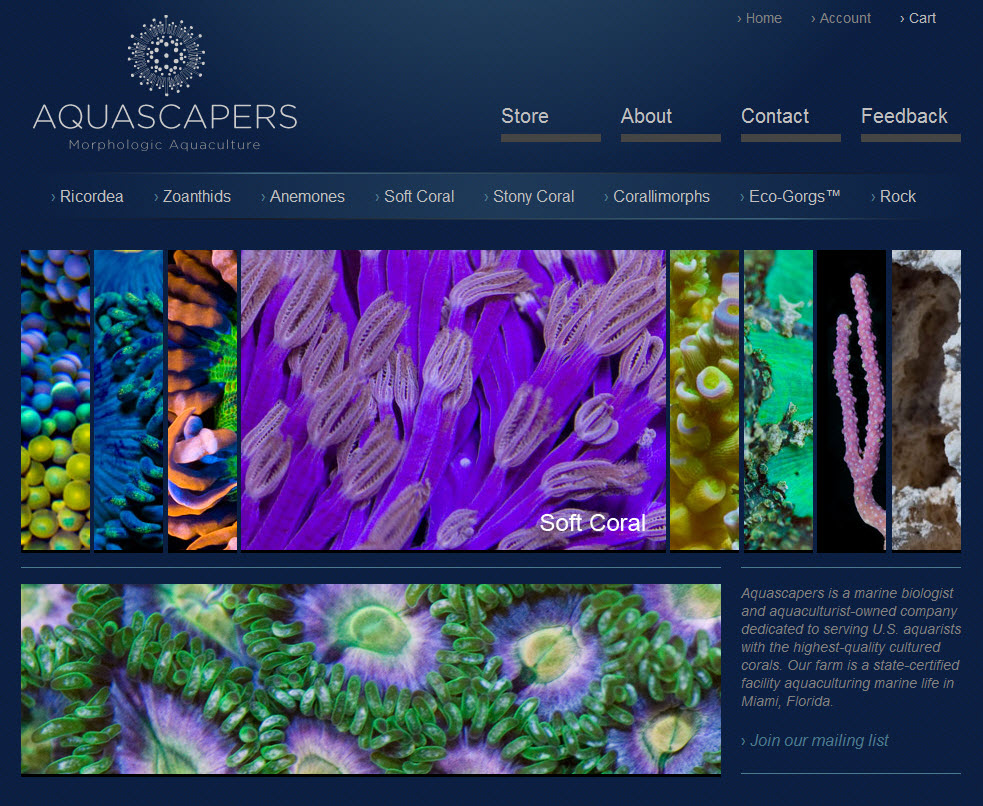 Coral Morphologic has been an extremely unique online coral retailer, but not necessarily because of the livestock they offer. Sure, they offer some beautiful corals, but it's been their business model that's got us chatty. They stepped outside of the typical retailer box by effectively blending aquarium keeping with art, and it's been a beautifully different union thus far. By not taking the same route as so many other frag sellers, this brainchild of marine biologist Colin Foord and designer Jared McKay not only showed us how there are still unexploited niches within the aquarium industry, but it also showed just how aquarium life can be incorporated into even more aspects of our lives. So far, this formula seems to work well, so much so that Coral Morphologic has apparently turned the retail portion of their company into it's own separate subsidiary. Called Aquascapers, this new venture still retains the artful beauty that Coral Morphologic is known for, but this time it's all business.
Although the Aquascapers website is not fully populated yet, it's very clear what the object will be…to sell coral. The Miami based retailer has a colorful splash page that is adorned with some great high definition photos from each of the typical coral categories including a couple of less common ones. These categories include Zoanthids, Anemones, SPS, LPS, Softies, Ricordea, and Eco-Gorg corals. All of the corals offered by Aquascapers will be assexually propagated (aka fragged) in either their 3,000 square foot state-certified aquaculture facility in downtown Miami, Florida or their 2,000 square foot greenhouse located in the Florida Keys, where their soft corals are primarly propagated. The corals grown in these two facilities are destined for private aquarium hobbyists, researchers, and public aquariums alike.
In addition to captive aquaculture of corals, Aquascapers also encourages everyone to support other admirable conservation intitiatives such as the Coral Restoration Foundation, the Marine Aquarium Council (MAC), and LINI.
As for the more artful side of biologist and artist duo that makes up Coral Morphologic, it will remain intact with the Morphologic Studios site exclusively focusing on the art we've already come to know and love.