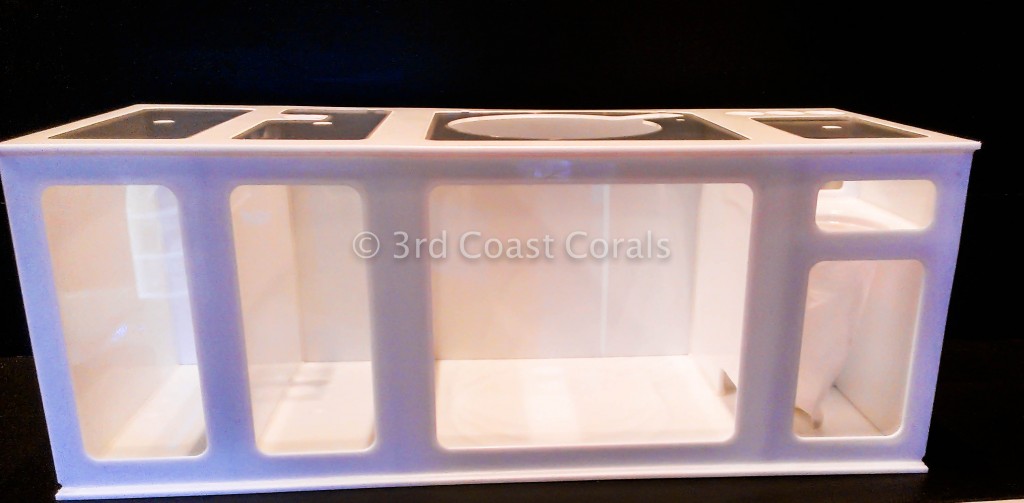 It's always refreshing to see someone on the local aquarium scene churning out some seriously sexy aquarium gear, and our friend Brian from 3rd Coast Corals has partnered up with an unlikely source, a blast from the past if you will, to do just that. He recently sent us a whole slew of images of a new one off HDPE and acrylic sump that was custom made for a client. The beautiful piece of hardware, which reminds us of the Dreambox sumps from Royal Exclusiv, features a white high-density polyethylene frame with clear acrylic viewing windows on the front and removable acrylic access doors on top.
The sump, which measures about 46″ long, has four distinct chambers. Starting on the far right and moving left, water enters into the filter sock chamber, then flows through a gap at the bottom into the skimmer section, which was specifically designed for a large ATB protein skimmer. From the skimmer section, water enters into the return chamber that has an adjustable baffle to increase or decrease water depth in that section. The section on the far left is a refugium, and water enters through the top and overflows back into the return section.
The overall dimensions of the sump are 48″L x 18″W x 18″T. The filter sock section is 8 7/8″ wide, the skimmer section takes up 19″, and the last two sections are 8″ and 8 1/8″ respectively. And because this HDPE and acrylic sump was custom built for a client, Brian withheld the actual price it was sold for, but stated that if he were to market these, they'd have an MSRP or $895.
To close, the unlikely source we referred to earlier is Kyle, formerly of Sapphire Aquatics. Unfortunately, Sapphire Aquatics went out of business back and 2010, and we're told that Kyle has no plans to get back into the game and that 3CC is not handling any orders for their products. This sump was a one off custom, and we can only hope to see more down the road.