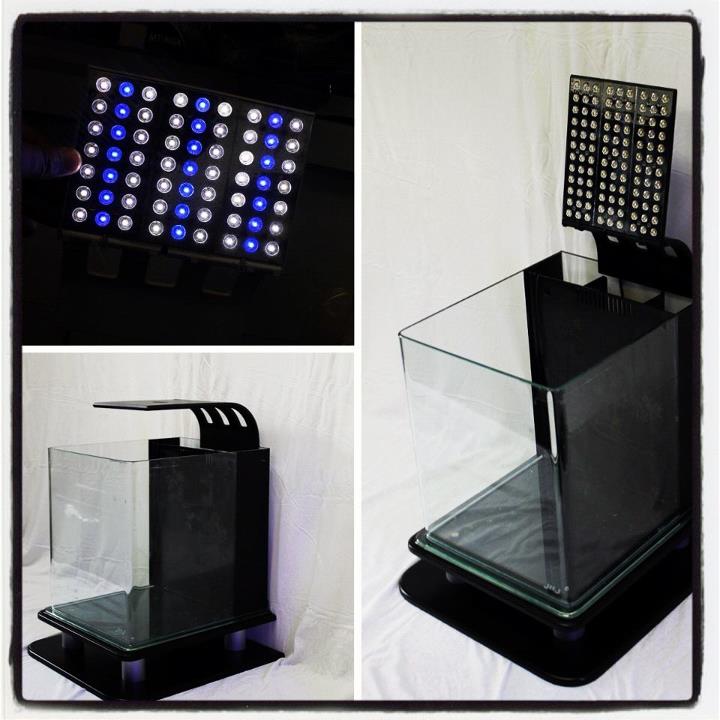 After acquring Nanocustoms/Nanotuners last year, JBJ USA has been quite busy in 2012 with tons of new product releases. And guess what, they are back at it once again with yet another LED fixture and nano aquarium package. The nano gurus have packaged their new, low profile Flipper LED fixture with a couple of their Nano-Cube RL aquariums, giving nano aquarium hobbyists who long for the benefits of LED lighting a stylish and very affordable choice for their rimless tanks. The light will come as a free option for both the 8-gallon and 5-gallon rimless tanks, and you can't get anymore affordable than that.
In brief correspondence with JBJ, a rep openly admits this lighting system only has moderate power and may not be ideal for a full blown mini reef. Instead, its intended use is more for style than power, but they also revealed a powerful alternative coming in the near future.
The rep also went on to admit that the Flipper LED fixture is , in fact, the same light being used by CAD Lights on several of their nano and pico aquariums. Apparently, JBJ and CAD Lights both have an agreement with the same manufacturer of the lights, given each the same access to the products. But to keep the competitive edge, JBJ reportedly offers their rimless aquariums at a lower retail price, all the while including the Flipper LED as a free option.
For nano aquarists seeking a bit more power in their lighting, JBJ revealed that they are also coming out with a Unibody LED fixture specifically for the 5-gallon and 8-gallon rimless Nano-Cubes. We're not entirely sure if these are the same small Unibody fixtures that we first talked about in January of this year, but either way a smaller Unibody is coming to the Nano-Cube RL lineup.
The new JBJ Flipper LED fixture was originally discovered by our friends at the Marine Engineers blog.