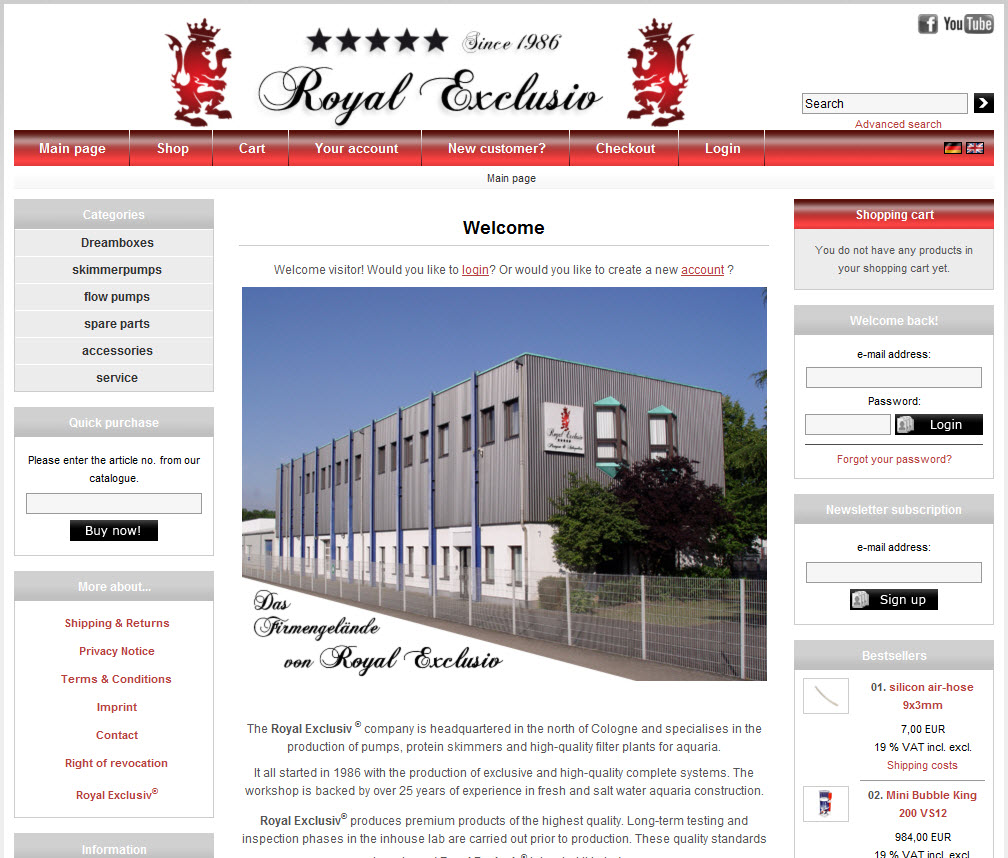 Royal Exclusiv, the German aquarium equipment manufacturers best known for their high end Bubble King protein skimmers, has recently unveiled a swanky new website that is packed full of drool inducing hardware. The sleek Dreamboxes, controllable DC water pumps, and functionally beautiful double cone protein skimmers are all on full display, with detailed product information comeing straight from the source. For years, aquarists have had to rely on distributors for this information, and most of the time all we could get were stock photos that filled a product page. Nw we can finally see the full line of new and classic Royal Exclusiv gear as it should be seen, in high definition pictures that show the quality and the intense amount of effort that went into each product.
What we love most about this new site, besides getting to see everything Royal Exclusiv has to offer, is the robust spare parts and accessories sections. Because Royal Exclusiv is overseas, they have had a hard time with servicing aquarium equipment purchased by customers here in the US. Parts were hard to come by and some folks would avoid the normally well-respected brand for something a little less expensive and easier to fix should something go awry. Warranty work will still have to go through the proper customer service channels, but getting replacement parts should get a whole lot easier with this new setup. The spare parts section includes everything from titanium screws and O-rings all the way to new replacement pump assemblies.
As for the service section of the website, users can buy various services just like going in to get maintenance on your car. Various packages exist that are designed for routine and preventative maintenance, to reduce noise and vibration, to repair and replace worn or broken items, or even give your product a boost in performance. This is a welcome site for customers who have paid the high prices for Royal Exclusiv products.
Chances are these are all services and products that have existed through Royal Exclusiv, but they are shown off much better with this new website.