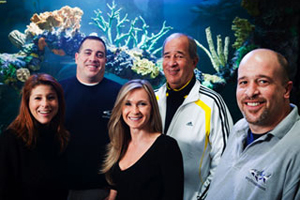 We're thinking that the world has taken a fresh dose of crazy pills lately, as another pet related robbery has occurred, this time involving the guys at Acrylic Tank Manufacturing, stars of the popular television show "Tanked", as the victims. According to My News 3, thieves broke into a Las Vegas pet store just before midnight on January 27th and stole several puppies. An hour and a half later and just down the road a ways, thieves broke into the offices of ATM and made off with four exotic birds and four bearded dragon lizards. It is suspected that the two robberies are related.
Wayde King, owner of ATM, stated to police that the birds were family pets and were not for sale. The crew at ATM is encouraging anyone with information to step forward, and a reward will be given for the return of the birds. Because the birds were family pets, they obviously hold a great deal of sentimental value.
In similar news, according to Advanced Aquarist, the men involved in the coral theft at a New York fish store have turned themselves in and returned a stolen hammer coral, though it was said to be dead upon its return. There isn't any word on whether or not charges were filed, but at least the group stepped forward and the fish store owners can start to recoup what's been lost.