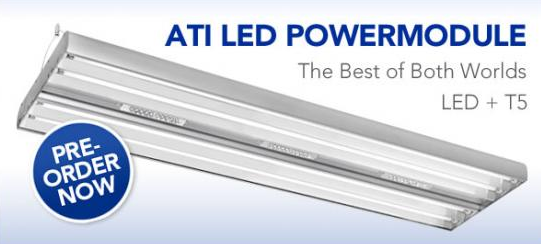 After far too long a wait, the ATI LED Powermodule is finally ready for pre-order. We first saw this gorgeous mixture of lighting technology at MACNA 2012, and we thought it was going to available to purchase as early as January. Unfortunately, ATI kept us waiting just a little bit longer, but thankfully that wait is virtually over. ReefGeek, one of the many vendors of ATI products, posted the LED Powermodule for pre-order on their website. And besides revealing the lights impending availability, the pre-order listings also reveal just how much the lights will cost.
The ATI LED Powermodule will come in all of the usual lenghts (24″, 36″, 48″, and 60″), with each of those coming in two different configurations (four or eight T5HO bulbs). The price for the 24″ model starts just under $1100 and the largest 60″ model tips the scales at $2350.
According to the ReefGeek press release, the 24″, 36″, and 48″ models will be available early March. The release date for the 60″ model, however, has yet to be determined.