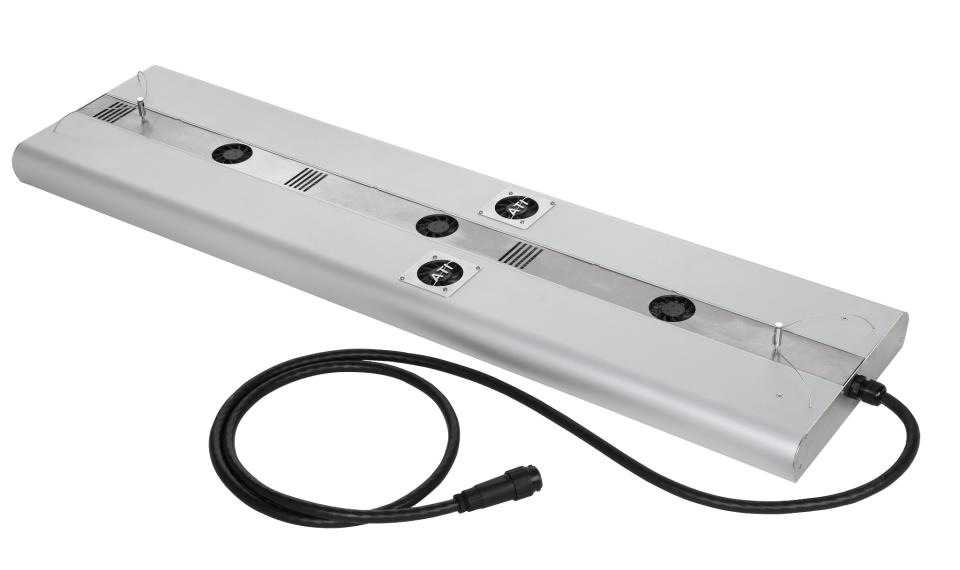 One of the products that we've been really looking forward to, since we saw it at MACNA last year, is the T5HO/LED Hybrid Powermodule from ATI. The Powermodule has already been a reliable performer for such a long time, and adding a few clusters of high powered LEDs just make sense to us. It brings the fixture up to date and allows ATI Aquaristik to tip toe into the LED game without risking too much capital on the venture. Regardless of the strategy, we're told that the LED/T5 hybrid Powermodules are now available to purchase, though we haven't seen any pop up on the websites of retailers and we don't exactly know how much they'll cost.
UPDATE: Seems we jumped the gun a bit. There was an unforeseen delay with these new Powermodules, but they will be available to order in March.
As for the LEDs in the hybrid Powermodule, they aren't your typical blue diodes used only for color enhancement or to add a little shimmer. Instead, they are high powered emitters that are surrounded by individual reflectors and come in colors of cool white, blue, royal blue, red and green. All in all, each cluster comes with 20 fully controllable LEDs, with the amount of clusters varying from 1 to 3 depending on the length of the fixture. Combined with the dimmable T5 bulbs, the fixture is fully controllable through a computer based software interface that communicates with the fixture via USB and the light's ballast/controller box.