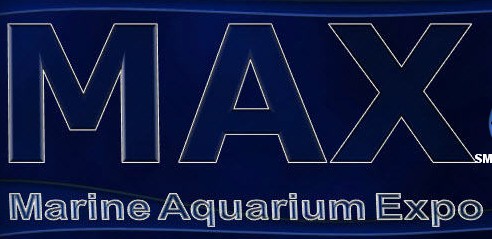 The Marine Aquarium Expo, a two-day event that has been dubbed the largest consumer event for the aquarium hobby in North America, takes place this weekend, April 6-7 at the O.C. Fair & Event Center in Costa Mesa, California. The event will play host to more than 70 exhibitors of aquarium livestock and dry goods, several guest speakers, an 8-foot touch tank aptly called the "FinZone", a high definition theater, as well as plenty of contests, prizes, and much more. There's basically fun activities for everyone in the family. The expo opens up to the public on Saturday, April 6th at 10am and runs through Sunday at 5pm. Ticket prices for MAX are set at $15 for adults, $10 for seniors and military, $5 for high school students, and free for children under 12.
The guest speaker list for MAX, like most aquarium conferences these days, is well rounded group of folks who've got plenty experience behind a podium and tons of aquarium hobby and industry knowledge. Included in the group (listed in order of apperance) are Matt Reed of ReefPestSolutions, Bob Fenner from WetWebMedia, Mark Vera of Aquatech, Mark Callahan from MrSaltwaterTank, Chad Wohlers from AquaMedic, and Thomas Plocher also from AquaMedic.
Given the guest speaker lineup, the plethora of daily activities, and the super cheap ticket prices, we can certainly see how this event is set up for success. Hobbyists don't have to blow all their doe just to get in the door, which means they should have plenty leftover for the corals and goodies that abound.
For a full run down of the MAX schedule, or just more information about the accomodations, be sure to visit the Marine Aquarium Expo website. And while we're speaking about the website, it's interesting to us that the site is so outdated. While it has no bearing on the quality of the show, which always gets rave reviews, we would like to see a fresh look for the MAX website, but I digress.