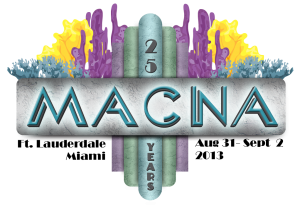 For aquarium keepers who take their hobby to the extreme and chew up plenty of air miles to travel to various aquarium conferences like MACNA, it's not always a great experience for the significant others. That person, who fully supports the addiction to the aquarium hobby, either gets left out of the festivities of a trade show, or does tag along but at the cost of constantly being bored. Fortunately for those individuals, MACNA 2013 is located in the Miami/Ft. Lauderdale area, which should give them plenty to do…whether it be shopping, going to the beach, or whatever, and they may not have to do it alone. A group of spouses and significant others might just be organizing some get togethers during this year's MACNA, and it will provide a great way to keep your loved ones from getting bored while you drool over aquarium stuff.
Over on the Reef2Reef forums, member "Floyd R Turbo" created the MACNA 2013 Displaced Spouses club, a potential pasttime for his spouse so she doesn't get bored while he cruises the trade show floor. It hasn't garnered much attention yet, but as the show approaches, we expect to see more and more of these threads popping up. And you know, it's a geat idea. We, the aquarium hobbyists, have three full days of activities, including reception dinners, guest speakers, and banquets. It's only fair that our travel companions also have some fun. So, if you're attending MACNA with a loved one, or if you're reading this thread as one of those loved ones, then try to find something fun to do with the family or those you meet at or before the conference. There's no point in going if you're just going to sit in the hotel.
On a side note, my wife asked for me to purchase a ticket for her, which I did. So, I'll be walking around with my wife and kid during various stages of the show. I just hope they let me work in peace.