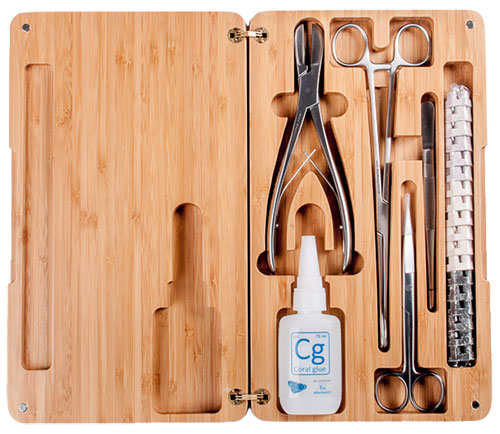 While EcoTech Marine's habitat viewing device may not have jumped out of the drawings and into the real world at this point, here's a new product that has reached a far more tangible stage. In finding more purpose for their EcoTech Elements Coral Glue, EcoTech Marine has launched a complete Propagation Kit, which includes clue and ceramic plugs, as well as a pair of stainless steel bone cutters, scissors, tweezers, and clamps. And that handy dandy case, well it's not any ordinary case. It's a beautifully crafted bamboo box that also doubles as a coral cutting board, perfect for all of those quick, right next to the aquarium fragging moments.
The kit contains plenty of high quality, German stainless steel tools, but much like any young child, we are quite fascinated with the box. The beautiful bamboo box is what literally brings this whole package together. And besides looking good, it's just oozing with all sorts of functionality. We already mentioned that it can double as a tiny portable frag table, but did we mention the magnetic fasteners that keep the box closed when not in use? This truly is a box of tools that we wouldn't mind leaving out if some friends stopped by unexpectedly.
There isn't any mention of pricing or availability on the EcoTech Marine website, so anything we toss out there would be a best guess. That said, we fully expect a near immediate availability (at least some time in November) with a price point somewhere in the neighborhood of $100 or slightly more. We are totally guessing, so we may be way off. The only thing we are basing the price on is the fact that these items easily top $10-15 each.
Propagation Kit Contents:
EcoTech Marine-designed coral frag plugs – three colors (18)
Coral glue – 2.5 oz/75 ml (1)
Tweezers – 6.3 in/160 mm (1)
Scissors – 5.9 in/150 mm (1)
Bone cutting forceps – 7.5 in/190 mm (1)
Soft coral clamps – 10 in/255 mm (1)