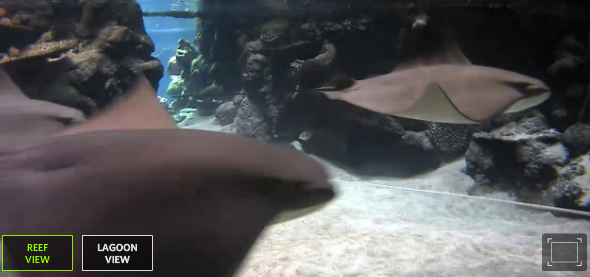 Have you ever wanted to visit a public aquarium but just haven't had the time to make the trip? Alternatively, do you frequent these aquariums and just can't seem to get enough? Well, if you fall into either of those two categories, then you're in a bit of luck. The California Academy of Science has recently put up two live webcams that focus on a couple of different areas of their massive Philippine Lagoon. Both feeds can be accessed via the academy's website, where you just pick and choose which area you wish to view.
With the lagoon view, observers can witness routine shark feedings every Tuesday and Thursday at 1:30pm PST. The tank is also fed randomly on other days, so you might catch a feeding if you stick around long enough.
The second viewing of the lagoon is called the "Reef View". Unfortunately, it's not aimed at a reef, rather it is another area where sharks and rays seem to accumulate. It differs from the lagoon in that it has a rock structure and more ocean life, but it's not the massive collection of corals that we know are at the academy. Still, there's plenty of live shark action to keep us entertained.