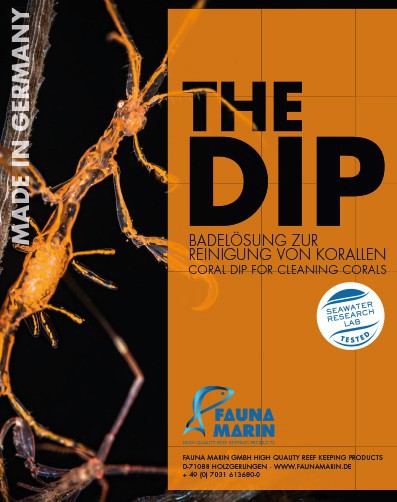 Fauna Marin is on a roll with new product introductions. Their latest product, THE DIP, is now available in the US for the 1st time.  There are several coral dip products on the market, with some being more effective than others at removing acro eating flatworms (AEFW), nudibranchs red bugs and other pests that can wreak havoc on our corals.
THE DIP, as it is simply called, is a new coral dip from Fauna Marin in Germany. THE DIP promises to remove a wide range of pests including red bugs and AEFW.  Produced with natural ingredients and no overly aggressive oxidative agents, THE DIP claims to be "safe for all kinds of corals" but we are not sure if this includes very sensitive corals like deep water Acropora species.
The Dip replaces a product called Pest Control so it's safe to assume that the guys at Fauna Marin have developed a better product.
The Dip Product Overview
Highly active solution made from natural ingredients
Contains, no oils, Iodine or oxidative ingredients
Does not darken coral tissue
simple to use, affordable and effective
Dosing is simple. To mix the dipping solution, add 15ml of THE DIP per liter of water needed. The maximum recommended dip time is only 5 minutes. Fauna Marin recommends gently swirling the water while the corals are being bathed in THE DIP. Once the corals have processed in the solution, they must be rinsed in a separate container to prevent any residual dip solution from entering into the display tank.
THE DIP is not suitable for use in the aquarium and it should not be used for dipping fish, shrimp, mussels, urchins and similar animals.  When dipping Acropora species, commensal crabs can often be found among the coral branches.  If found, quickly remove the crabs from the dip bath, and place them in another container of aquarium water while the corals are being treated.  Once the treatment is complete return the crabs to the corals and place them in a quarantine system.
Pricing for the 250ml bottle is $24.90 and the 500ml bottle is $41.90 and each size will treat 4.40 gallons (16.66 liters) and 8.80 gallons (33.33) liters respectively.