You may be asking, what is a Kona Sun?  In simple terms, the Hamilton Kona Sun is a high output LED strip light for reef aquariums. Hamilton Technology recently sent AquaNerd a Royal Blue light to test out. It is currently in use over one of our grow-out tanks, where we house palythoa, zoanthids, anemones, and soft corals.
Each light comes complete with its own transformer. Dimensions are only 3/4″ in height and 1 1/2″ wide, allowing for ease retrofit inside a canopy or as an addition to existing fixtures. These lights are available in 5 different color configurations: Actinic 03 Blue, 20K, 14K, 12K White, and Royal Blue.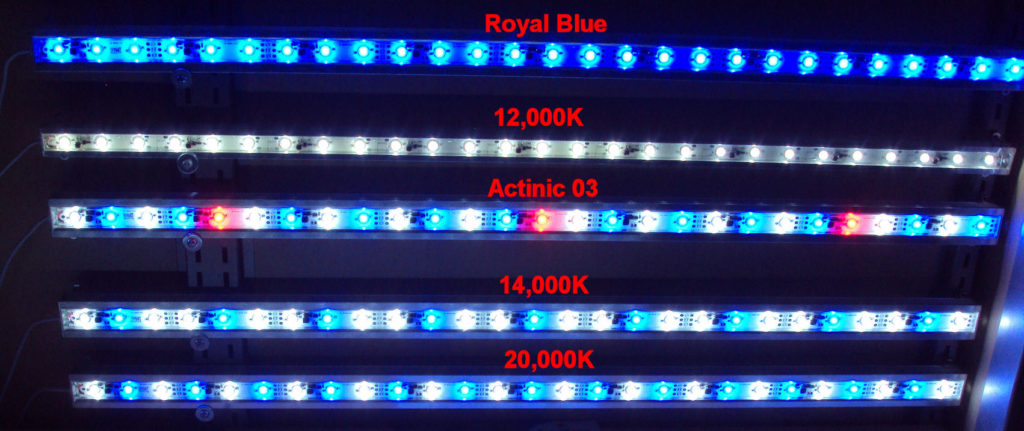 We really enjoy the spread and shimmer effect. The diodes are 1 watt each and one light bar will easily cover 24" of tank width. The LED light bar is water resistant and designed to stand up well to a humid environment.  Also, the price point is considerably lower than several other LED strips on the market.  We have found that these lights work best for soft corals, LPS aquariums, and as supplemental lights for mixed reefs- including SPS aquariums.
Hamilton Technology, often considered more of a MH and T5 company, has been selling these LEDs for the past few years. David, from Hamilton Technology, tells us that their local stores love them and they are quite popular on the West Coast. The most popular sellers are the 14K, 20K, and Actinic 03 Blue. For those looking to add a pop to an existing aquarium, the All Royal Blue has been a fan favorite among many hobbyists.
The Kona Sun LEDs are available in 2 ft, 3 ft, and 4 ft lengths and can be purchased directly from Hamilton Technology's website. Some local fish stores and online retailers are promoting the Kona Suns as well.
Many of our readers (including us) may not have experience using the Kona Sun LED strip lights, so we wanted to test one to see how the light preformed.  We installed the 2 ft royal blue version on one of our grow-out tanks that has been set up for about 5 months for high-end zoanthids, palythoa polyps, and even a few rose tip bubble anemones.
Currently, the tank houses about fifty zoa and paly frags along with rose bubble anemones, rock anemones, and a few soft corals.  Below is a picture of a light bar mounted above the tank, and behind the Kona Sun you will notice two BioTek Marine BTM5HO LED lights that we already had in place.  The tank is 44″ long and 40″ wide, and it is evident that there is enough light to successfully grow everything we have added to the tank.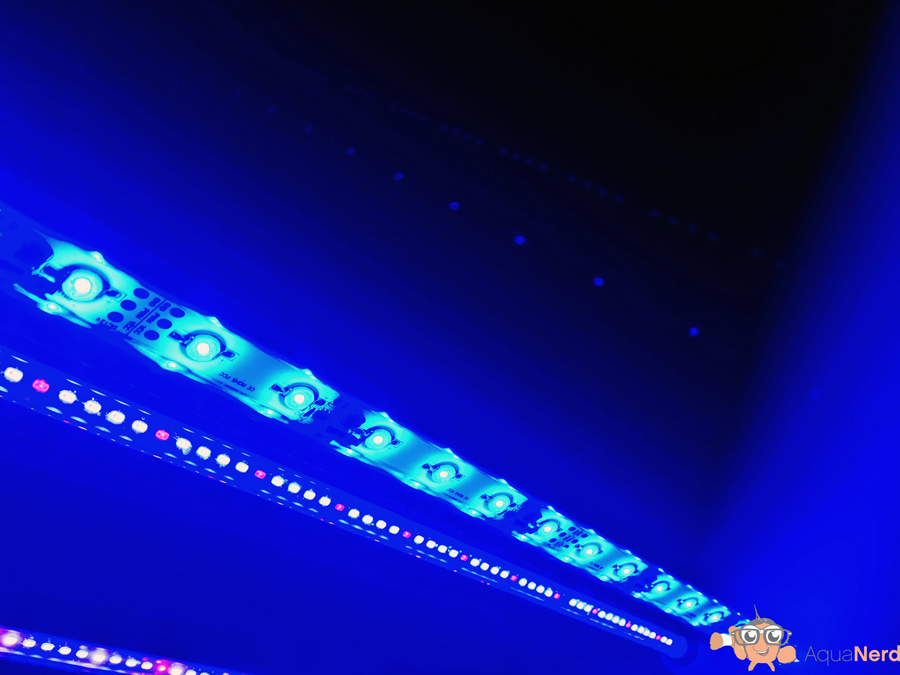 One of the initial attractions to us is the price point and the small footprint the light bar requires.  If you are searching for a great value on a strip light, the Hamilton Kona Sun LED light bar may be just what you are looking for.
For more information on Hamilton Technology products, you can visit their website here.