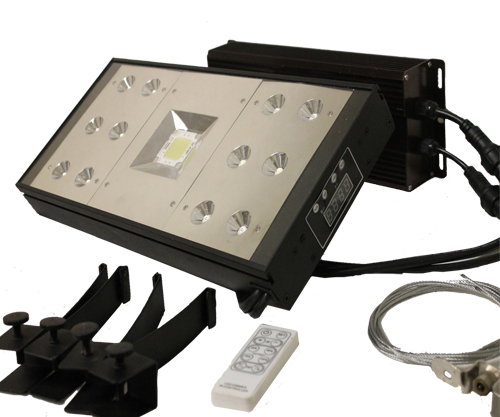 CAD Lights has been on a tear with the new products lately, and their latest expansion comes in the form of a pair of new LED fixtures that are joining an already popular lineup. These two new fixtures aren't your typical run of the mill fixtures, however. Instead of using a bunch of small diodes each sitting behind optics, the new CAD Lights fixtures sport a big beefy multichip LED in a large reflector as the primary mode of illumination. We've obviously seen this style of light before, as the multichip LED has already found its way into Ecoxotic, Coralvue, and Orphek products, but the CAD Lights takes the concept a bit farther by flanking the large emitter by a bank of six dimmable diodes on either side.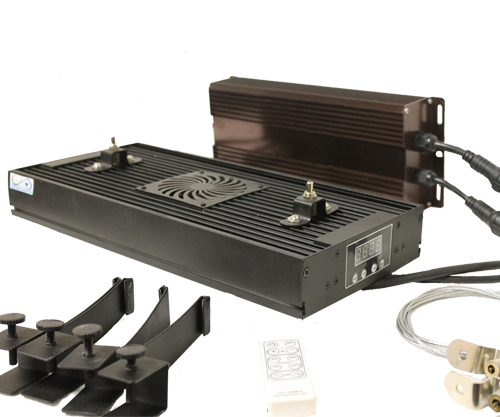 The CAD Lights Multichip LED fixture comes in two very similar models. The AXS-100W, as its name suggests, features a single 100watt emitter, while its little brother the AXS-50W sports a 50watter. To make the fixtures even more appealing, a trio of different control options have been included. The first of the three methods of control is a built-in digital timer that tells your lights when to turn off and on. The second controllable feature is a built-in dimmer for the supplemental LEDs that flank the multichip emitter. The last, and probably the coolest, control feature comes in the form of a remote control. We're not entirely sure what all is controlled by the remote, but it will be able to dim the supplemental LEDs as well as turn them on and off. The multichip emitter is not dimmable.
Each fixture measures in at 15.5″ x 7.5″ x 2″, with height adjustable steel cables and ceiling mounts included to suspend the light over your aquarium. Tank mounts and leg accessories are also available as an upgrade.
Below is a list of features modified from the CAD Lights website:
Features:

Single 100W or 50W Multi-Chip LED center bulb
12 pcs 1W LED HO supplemental lights
Controllable with its built-in Digital timer, Manual dimmer controls and remote control. Multi-Chip center bulb is not dimmable.
Ultra slim and compact design with dimensions of 15.5″ x 7.5″ x 2″
Steel cables, ceiling mounting brackets with height adjusting capability.

Add-on accessories available:

Brushed Stainless steel lamp tree pair, lets you adjust up and down 55″-80″, forwards and backwards as well 8″-12″. Includes all mounting hardware and polished stainless steel hook.