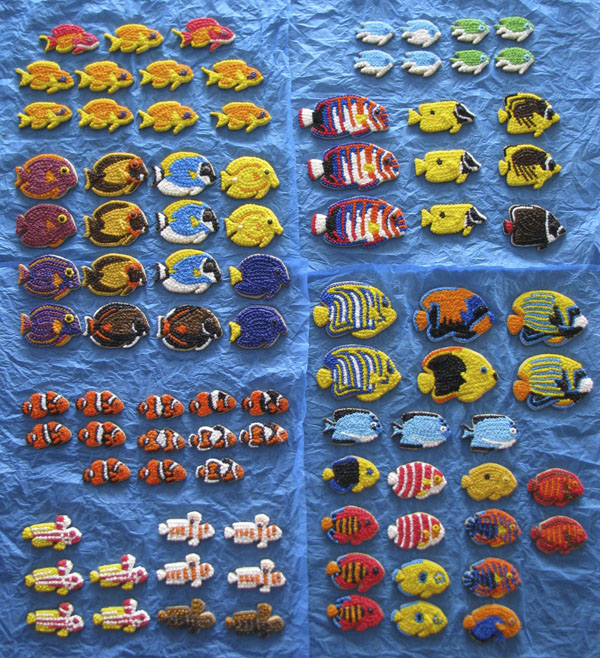 It's not uncommon for our aquatic obsessions to have a big impact on the other aspects of our lives, but this one takes the cake, err cookie. A couple of days ago, Reef Central user "jlanger" shared his newest baking creation, 91 cookies designed to look just like a whole bunch of different reef fish. The attention to detail that was given to each fish is just amazing, and with almost 30 different species filling the baking sheets, we know it had to take quite a bit of time to finish. Unfortunately though, these fish don't have a very long life expectancy. Jokingly, Jason stated that the fish were placed into a rubbermaid quarantine tote, but that he didn't expect many to make it out alive.
Getting back to the details of the fish, Jason took the time to make males and females of the lyretail anthias (top left in the image above), and even made some of the clownfish into individual Picasso variants. Other fish to take note of are the two Peppermint Angelfish and what appears to be a Narcosis Angelfish. According to the Reef Central post, Jason was particularly fond of the Harlequin Tuskfish (immediately below) as it was very colorful and "healthy looking". Too bad things like marine ich and other reef fish diseases are the lease of its worries. It has to worry more about being washed down with a big glass of milk.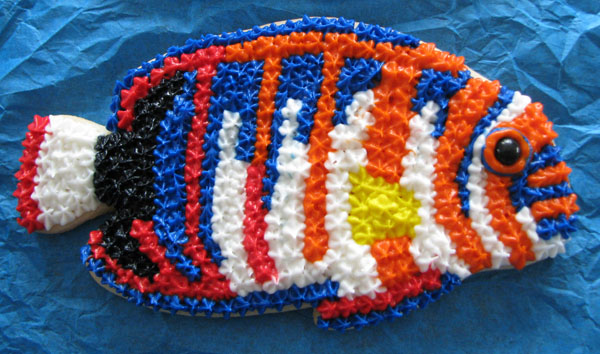 Also noted in the original thread was that these fish are sugar cookies topped with an almond/vanilla flavored icing. They're said to be so good that a few didn't make it past the night. LiveAquaria's Kevin Kohen got in on the action as well, posting to Facebook that he had received a Peppermint Angelfish cookie but that it was eaten before he could get a chance to photograph it.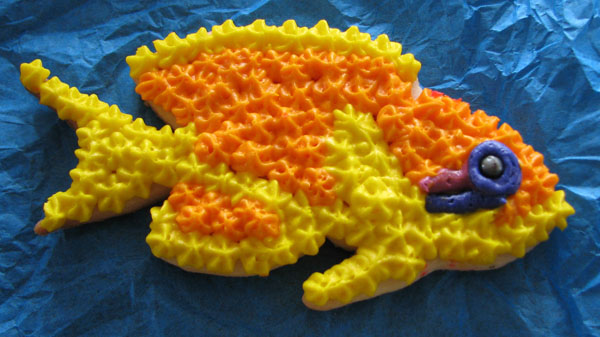 Because of all of the interest Jason got on his RC thread, he told us that he will be making more cookies over the coming weeks and that he'd even do a build thread. We all know RC is full of aquarium build threads, but this might be the first cookie build thread to hit that forum. When the build thread goes up, we'll be all over it, so stay tuned.