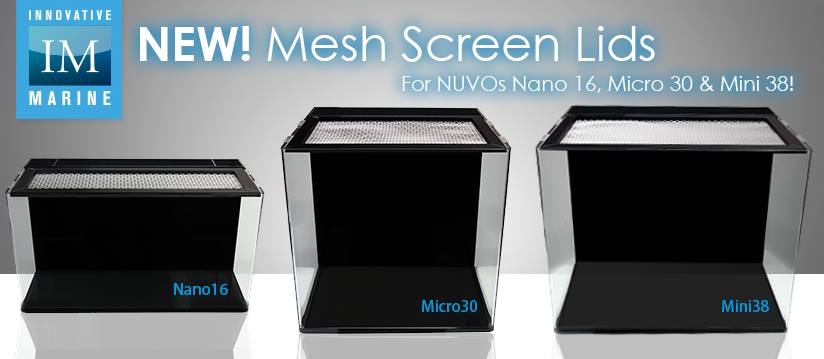 When Innovative Marine launched their NUVO Shallow Reef and Fusion series aquariums, they thought out the designs through eyes of aquarium keepers, adding specific accessories that would yield massive benefits. One of these features was the mesh screen that covered the tops of these aquariums, keeping jumpy fish from doing a little carpet surfing. While this screen comes stock with the two higher end systems, IM has decided to release a line of screens to fit many of their popular NUVO Nano aquariums.
This upgrade consists of a lightweight mesh screen with a durable powder coated aluminum frame and will fit nicely over the NUVO Nano16, Micro30, and Mini38 aquariums. There are no tools required for the install, and since the screen comes preassembled, all you have to do is tear open the box and set it on your tank, simple as that.
Here is a full model breakdown, which includes dimensions and suggested retail prices.
-16 Gallon Screen Dims: 22.85" x 8" x 0.35" ($40 MSRP)
-30 Gallon Screen Dims: 19" x 13.25" x 0.35" ($50 MSRP)
-38 Gallon Screen Dims: 22.75" x 13.25" x 0.35" ($60 MSRP)