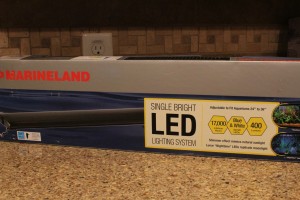 We recently got the opportunity to review the MarineLand Single Bright LED. We received the 24″-36″ model and wanted to share our initial impressions. At first sight, this fixture is sleek and fairly stylish. The light is ultra thin, measuring less than 1/2″ tall. The all-black case and circuit board also add to the light's visual appeal. For mounting options, the Single Bright LED fixture has built-in legs. And since this particular model can fit aquariums 24″-36″, the legs pull out of the fixture to the desirable length.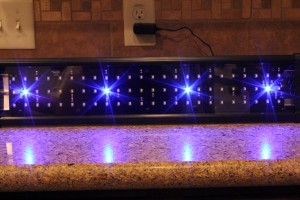 The fixture we received features 68 white and 4 blue LEDs, all of which are .06 watts each. During normal daytime operation, all of the LEDs are illuminated. At night, the 4 blue LEDs can remain on (simple flip of a switch), providing your aquarium with a moonlight.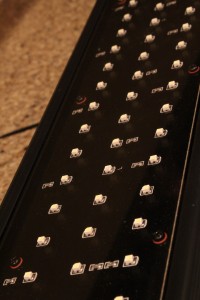 Though these are our initial thoughts on the light as we unboxed it, we will have plenty more updates as we put it through the ringer. PAR numbers will be coming soon of course, as will our thoughts on the light's performance over an actual saltwater aquarium. We have already started a few product videos on this MarineLand fixture, so be on the lookout for those as well.
Continue reading below for our initial verdict, thoughts on where the light could use some improvement, and lots more pictures.
Our initial verdict:
We really liked how thin the light is, as well as how it mounts to the aquarium. The thin adjustable legs work perfectly, and are surprisingly sturdy. The overall look of the fixture makes it quite appealing.  There is virtually no heat emitted from this fixture, which translates to no noisy fans and only a minor increase in water temperature from long-term illumination.
Where we would like to see improvements:
Though MarineLand purposefully designed the Single Bright LED to only have one power cord and power switch, we would have rather seen two power cords to allow for a more automated approach to the day/night lighting schemes. We would also like to have seen more blue lights for daytime use, but in all honesty I prefer my aquariums to look more on the blue side and this is far more subjective than most other aspects.